Since 1991, the Monaco Yacht Show has been committed to promoting creative excellence in the world of super-yachting.
The Monaco Yacht Show is shining a light on sustainability
this year
The 2022 Monaco Yacht Show will mark the unveiling of the Sustainability Hub: this new exhibition area will welcome companies that specialize in technology aimed at reducing superyachts' environmental footprint. The 2022 Monaco Yacht Show will mark the unveiling of the Sustainability Hub: this new exhibition area will welcome companies that specialize in technology aimed at reducing superyachts' environmental footprint. We are absolutely thrilled to be a part of this sustainable super-yacht initiative! Keep reading to find out about our sustainability journey & how the adventure is taking us to Monaco, with our yacht crew uniforms.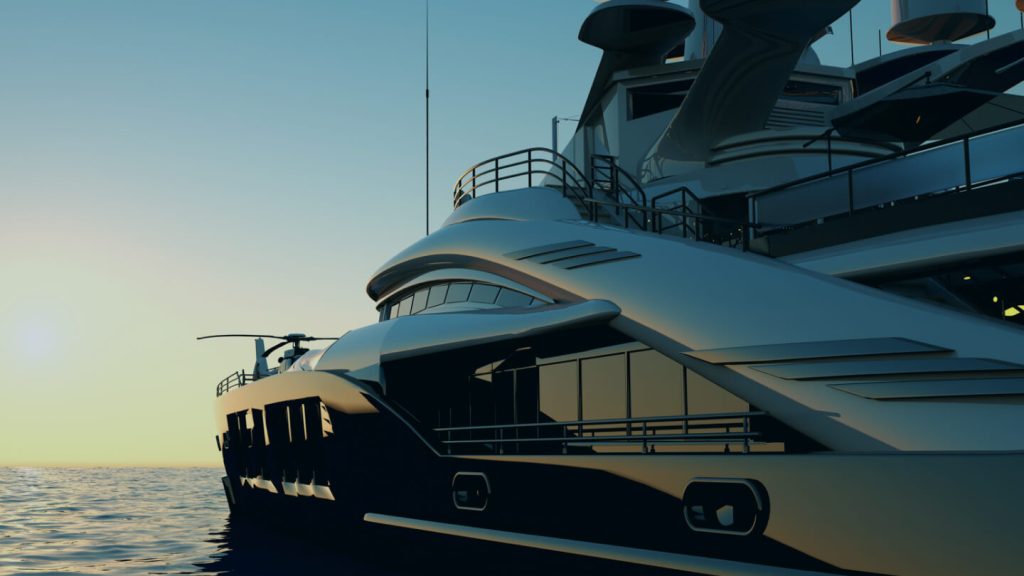 What is the sustainability hub?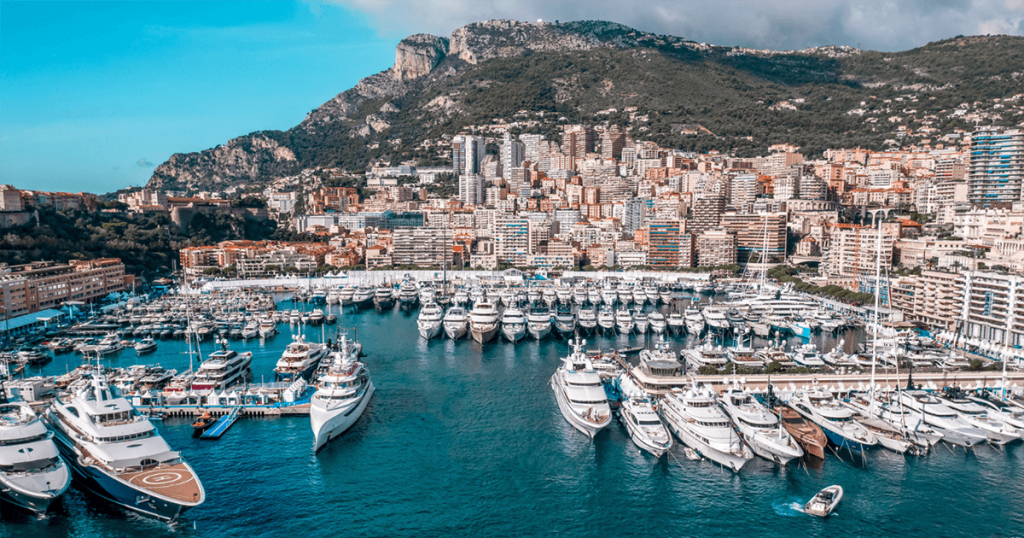 The yachting industry has been investing in sustainable solutions for over a decade, driven by owners' desire to reduce the environmental footprint of their yachts. With superyachts, yachts, sailing boats, and ribs, their playing ground is the ocean. Therefore, the sustained, clean future of the ocean is pivotal to any decision they make.
Water Revolution Foundation was established on stage at The Superyacht Forum in 2018. It was an important moment for the industry; finally there was an organisation ready to take the lead and drive sustainability.
The Water Revolution Foundation has teamed up with the Monaco Yacht Show, this year  to bring Sustainable Yachting to the forefront. The Water Revolution Foundation's mission is very much aligned with our mission to protect our Ocean's future for generations to come. They aim to drive sustainability in the superyacht industry through collaboration and innovation, leading the way towards neutralizing the superyachts ecological footprint and preserving the world's precious oceans. Healthy oceans are not just vital for the future of the superyacht industry, they are crucial for the planet's well-being.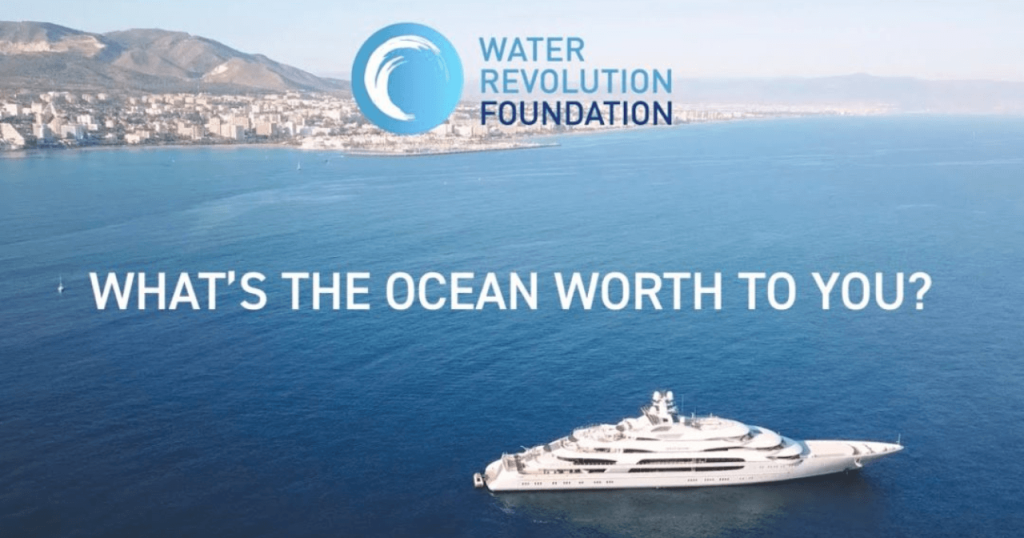 "It is the worst of times but it is the best of times because we still have a chance." -Sylvia Earle
Recycling Ocean Waste
The superyacht industry is the perfect breeding ground to trial, test and perfect new sustainable solutions. This is thanks to the extraordinarily influential clients who have the resources to drive sustainability, and the many skilled craftsmen, engineers and architects who are not afraid of pushing the boundaries. Furthermore, many superyachts are custom, one-off projects, meaning that each yacht is a vehicle for change.
We relish the opportunity to push the boundaries, even more, sustainability boundaries,  that's why we decided to start creating crew uniforms from recycled ocean waste. We design & craft premium, super yacht crew uniforms, customized & inspired by you for the future of your ocean. The prominent material we use in our uniforms is recycled polyester. We use this wonderful material as it's made out of recycled plastic water bottles. These bottles are recycled with a mechanical process that first transforms them into flakes and pellets, which are then spun into high-quality yarn.
Depending on the type of garment we normally use 80-90% recycled polyester, in our superyacht crew uniforms. Recycled polyester can be recycled again, which is why this material is highly valued in the circular economy. We even make our rash guards with 85% Recycled Polyester, sustainably and ethically produced. To find out more about the benefits of using recycled polyester, check out our latest Eco-Fabrics blog.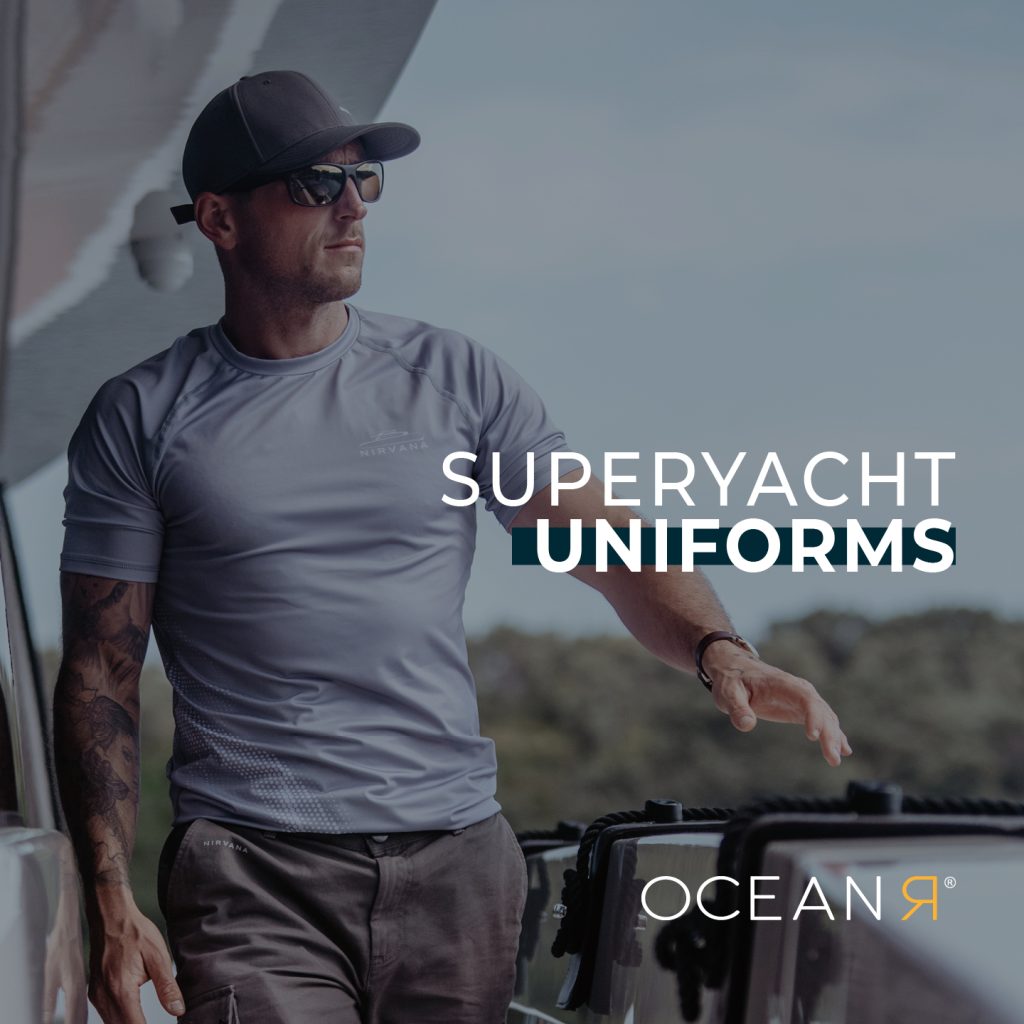 A Kilo for the Planet
We love creating sustainable crew uniforms from recycled ocean waste but we also love to continually clean our oceans for marine life to thrive! A kilo for the planet was created to work towards a sustainable marine ecosystem. We wanted to take responsibility for taking care of our oceans, and we wanted you to be part of the journey as well. It means that for every product you purchase, our crew uniforms are included in this,  1 kilogram of ocean waste is removed. We achieve this through our partnership with Enaleia.
We support Enaleia, a social start-up that was founded in 2016 with the creation of the first school for professional fishing in Greece. The school encourages fishermen to adopt sustainable fishing techniques and assists in the reduction of ocean plastic by 'fishing for it.' This has become known as the 'Mediterranean Cleanup,' and now Enaleia works with hundreds of fishermen in Greece and Italy who are collecting thousands of kilos of plastic from the sea every week. The fishermen on these boats are paid to collect ocean plastic and bring it ashore to be recycled. This plastic then enters the circular economy, either through recycling or up-cycling.
If we prevent plastic from ending up in a landfill or in our oceans, that will always be more sustainable than the alternative! We can't wait to invite our Enaleia partners to come to speak with us at the Sustainability hub talks, we promise it will be an interesting one.
Our Yachting Friends
We are so excited to showcase our range of sustainable yacht crew uniforms, check our wonderful superyacht partner Nirvana & some of the sustainable designs that we created for their Eco-conscious crew 
Nirvana is a beautiful, unique Superyacht built in 2021 by Sanlorenzo, based in the magical waters of the Mediterranean.
Nirvana is built with a GRP hull and GRP superstructure. Powered by twin Volvo engines, she comfortably cruises at 16 knots, and reaches a maximum speed of 22 knots. Nirvana can hold up to eight guests within it's luxury interior, with some wonderful water-sport amenities such as Flite Flyboards & Waterskis.
We were delighted when the crew in Nirvana reached out to us, to create a bespoke range of premium, sustainable yacht crew uniforms for all their wonderful staff.
The staff sought sustainable uniforms which would help them contribute positively to their oceans, while also being comfortable, lightweight, and super stylish.
We created a range compromising of casual organic cotton tops and shorts; hoodies, fleeces and soft-shell jackets for the crew onboard, as well as recycled polyester rash vests and swimming shorts for them to feel comfortable during all the water activities the yacht offers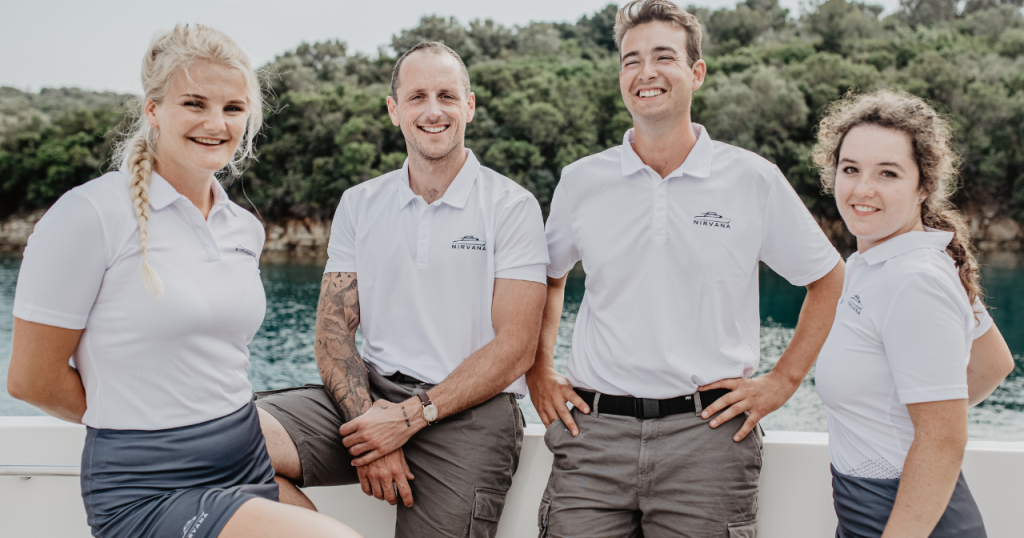 Our sustainable showcase in Monaco
We have been causing a quiet revolution in sustainable fashion since our inception, designing high-end sustainable apparel for luxury resorts and super-yachts all around the world.
We are honored that the sustainability partners in Monaco recognized this & invited us to spread our sustainability journey further.
We hope to help the attendees to achieve their sustainability objectives, by combining high-end style and sustainable substance in a truly unique way.
Looking to visit us at the Monaco Yacht Show
Simply book through the link here. We can't wait to see you!