The Ritz-Carlton Maldives, Fari Islands welcomes you to embrace island life.
The Ritz- Carlton Maldives
Immerse into Maldivian stories, while embracing the balance of cosmopolitan and private island life as a new Maldivian experience.
The Ritz-Carlton Maldives, Fari Islands hotel takes a minimalist & sustainable approach to luxury. Modern waterfront villas include private pools; simple ingredients are transformed by skilled chefs and mixologists; healing is guided by directional energy and nature is explored with respect and wonder. The resort's three islands and overwater quay serve as a base for discovering the wonders of the Island.
Keep reading to discover all the archipelago has to offer and how we helped them on their sustainability journey.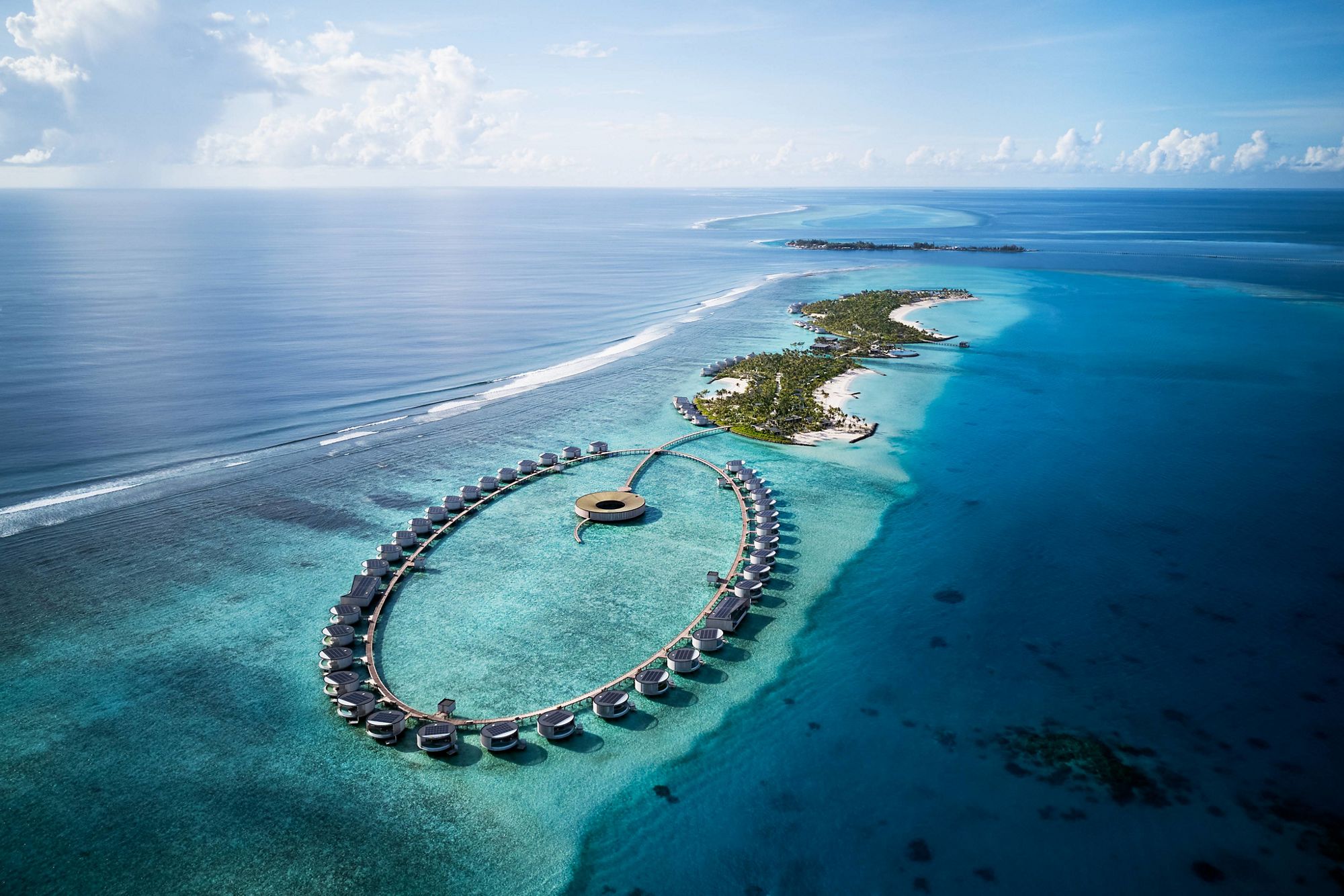 The Ritz-Carlton Story
The Ritz-Carlton hotel range embodies the finest luxury experiences. The story began in the United States,  when The Ritz-Carlton Investing Company was established by Albert Keller who bought and franchised the name. The Ritz-Carlton, Boston revolutionized hospitality in America by creating luxury in a hotel setting, with even a private bath in every room! The company began to expand, adding new properties across the United States.This rapid expansion continued, and by the close of 1992, The Ritz-Carlton had expanded to 23 exceptional luxury hotels, earning its first Malcolm Baldrige National Quality Award. The following year, they opened their first hotel in Asia, The Ritz-Carlton, Hong Kong.
"An Island Destination Offering Adventure And Culture."

 
Sustainable clothing & Green Initiatives in the Maldives
The Ritz-Carlton Maldives Fari Islands creates sustainable gastronomy efforts including fresh produce from the garden, extensive plant-based options and zero-waste approach. The resort is Eco-friendly  mainly operating on solar energy.
They use reusable glass water bottles, bamboo-based personal consumables and bamboo and stainless steel straws are part of our commitment to offering guests a plastic-free stay.The still and sparkling drinking water available on the island comes from the resort's dedicated plant, with purifying patented water filters.The Ritz-Carlton Maldives is proud to host Ambassadors of the Environment, a program by oceanographic explorer, environmentalist, educator and film producer Jean-Michel Cousteau, how cool!
The luxury resort reached out to us to collaborate over sustainable uniforms for their wonderful staff & crew. We love working with resorts and tailoring sustainable apparel, uniforms and clothing to suit their brand's essence.
The Ritz-Carlton Maldives makes a positive impact with Sustainable Clothing
We love creating sustainable crew uniforms from recycled ocean waste but we also love to continually clean our oceans for marine life to thrive! From helping to remove plastic from the oceans, it helps the oceans surrounding the Maldives stay crystal clear.
We work with Enaleia to help remove plastic from our oceans and we then use this recycled polyester made from ocean waste in our apparel.
Our wonderful selection of rash-guards are made with 80% Recycled Polyester.
Our adventure together
We thoroughly enjoyed working with the Ritz- Carlton Maldives, in the creation of resort-chic, simple and classy sustainable apparel. The Maldives resort realized that their guests not only expect the wow factor, they expect them to be leading the charge with green initiatives and sustainable business practices.
The resort sought a range of unisex polo shirts, female polo shirts and board-shorts for their luxury resort. The polo shirt range we designed with them used 100% recycled polyester, for each polo-shirt made, it removed 14 plastic bottles from the ocean. As the resort in the Maldives is surrounded by the beautiful Indian Ocean, protecting the cleanliness of the ocean for future generations was paramount.
Thus, we were able to provide the Maldives resort with a plastic offset certificate, to show them how much plastic they removed from the ocean through collaborating with us.
One smart way to make greener business choices was to switch to sustainably made uniforms and accessories for their Eco- conscious staff, to help them make a positive impact on our planet, ocean and future, together.
Who we have helped
We have been causing a quiet revolution in sustainable fashion since our inception, designing high-end sustainable apparel for luxury resorts and super-yachts all around the world.
We are honored that the sustainability partners in the Ritz Carlton Maldives recognized this and invited us to be part of their Eco-friendly fabrics journey!
We have helped lots of luxury resorts, islands, ocean lovers and more in the past. To find out a little more of who we have helped achieve their green initiatives in past, check out our wonderful array of luxury resort clients here.