This month we're shining a light on how the
superyacht
industry is navigating sustainability at sea to greater effect.
It's no secret that the superyacht industry has a reputation for causing significant pollution at sea through diesel consumption and waste pollution. However, thankfully, the tide is turning, and we're witnessing a clear shift across the whole yachting community, with sustainability becoming a core objective.
From innovative technology with hybrid boat engines to recyclable materials within the superyacht interior, to the eco-friendly products aboard, and yacht crew uniforms made from sustainable fabric, we dive in to see how these changes are reducing the overall environmental impact of the yachting industry.
Innovative technology
and
eco-friendly
ocean engineering
What an exciting time to be in marine engineering. Innovative technology is transforming the way yachts are being designed and built, pushing sustainability to the fore.
The use of lighter materials in yacht construction, such as carbon fibres and aluminium over steel

Greater use of the

hybrid boat engine

to reduce the reliance on

fossil fuels

(creating beautifully

silent yachts

)

Using

solar energy

within

ocean engineering

to help reduce the carbon footprint of the vessel

The use of converters to create renewable electric energy onboard the yacht
Existing yachts are also being modified and retrofitted to make them more eco-friendly. For example, installing battery banks, or new engines or generators to reduce fuel consumption and increase energy-efficiency.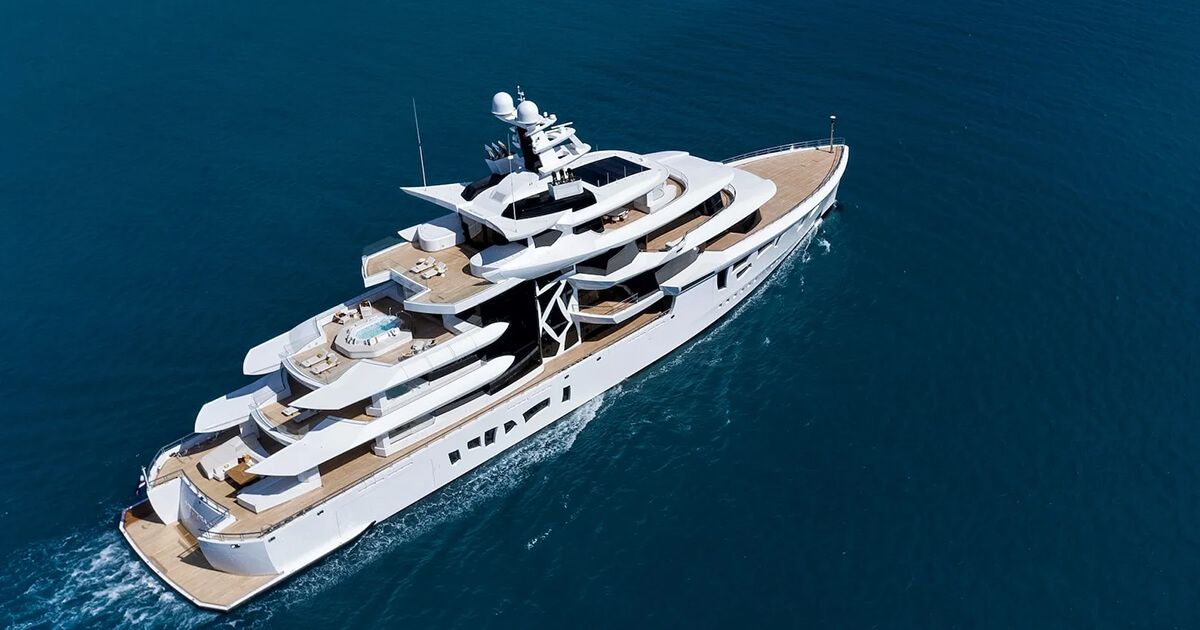 Recyclable materials
within the
superyacht interior
Superyacht interiors are undeniably exquisite, offering a level of unparalleled opulence for yacht owners and charter guests.  
However, designers are reimagining the traditional materials used within luxury yachts opting instead for those with less environmental impact. 
We're seeing increased use of recyclable materials to create sustainable flooring, wall panelling, furniture, finishes, textiles, and more, including: 
Majilite faux leather and suede products

Banana leaf to mimic leather

Wall finishes made from mushrooms

Textiles made using

organic cotton

Econyl, made from ocean waste, to make carpets and fabrics

Faux coral made from eggshell (as a by-product of the food industry)

Surfaces made from whole tobacco leaves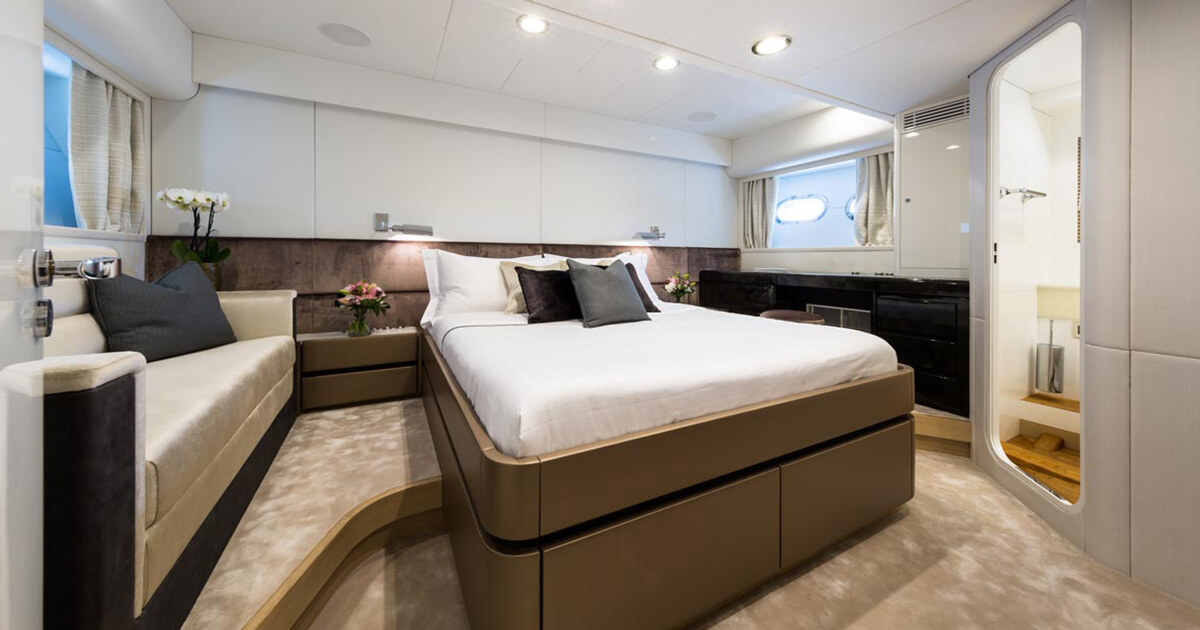 Sustainable products
and
eco-friendly clothing
onboard
luxury yachts
Within the operation of these stunning superyachts, there are a number of changes that can be introduced that will have a significant impact on the environment. 
We're talking about the provisions onboard, the yacht crew apparel, and the commitment to recycle wherever possible.
Some of the key ways this can be achieved are to:
Move away from single-use plastics and look for

eco-friendly packaging

when sourcing yacht provisions

Select

eco-friendly products

, especially those that may come into contact with marine life, for example, sunscreen, detergents, and soap

Recycle

waste wherever possible

Curate more-plant-based menu options

onboard

 

Invest in

yacht crew

uniforms made from

sustainable fabrics
We've had the pleasure of designing custom-made, sustainable uniforms for crews onboard a selection of superyachts: MyFountainhead, My Lunasea, My Kaos, and My Vacaya to name a few. 
Our bespoke crew range includes polo shirts, tech tees, board shorts, rash vests, soft-shell jackets, safari hats, visors, stainless steel water bottles, and more. All made with recycled polyester and UVF50+ protection. Delivered in zero-waste, eco-friendly packaging of course.
To read more about our brand partnerships with these superyacht crews, and to see examples of our custom designs, please click on the images or download our catalogue below.
Download Superyacht Catalogue
Partnerships helping to drive a
circular economy
At OCEANR, we want to take responsibility for taking care of our oceans. But we know this job is too big and too complex to do alone.
We've partnered with a number of inspiring businesses who share our vision of reclaiming our oceans for a better future.
Accountability and transparency
Through our partnership with social start-up, Enaleia, we're removing plastic waste from our oceans. Turning items such as discarded fishing nets and post-consumer plastic bottles into high-quality, custom-designed eco-clothing and products for yacht crews, luxury resorts, and the adventure-seeking consumer.
We want our customers to be part of the journey too, so for every OCEANR product sold, we remove 1 kilo of ocean waste. 
And with traceability at our core, we've partnered with BCorp organisation, BCome, to track the original source of each of our recycled polyester garments.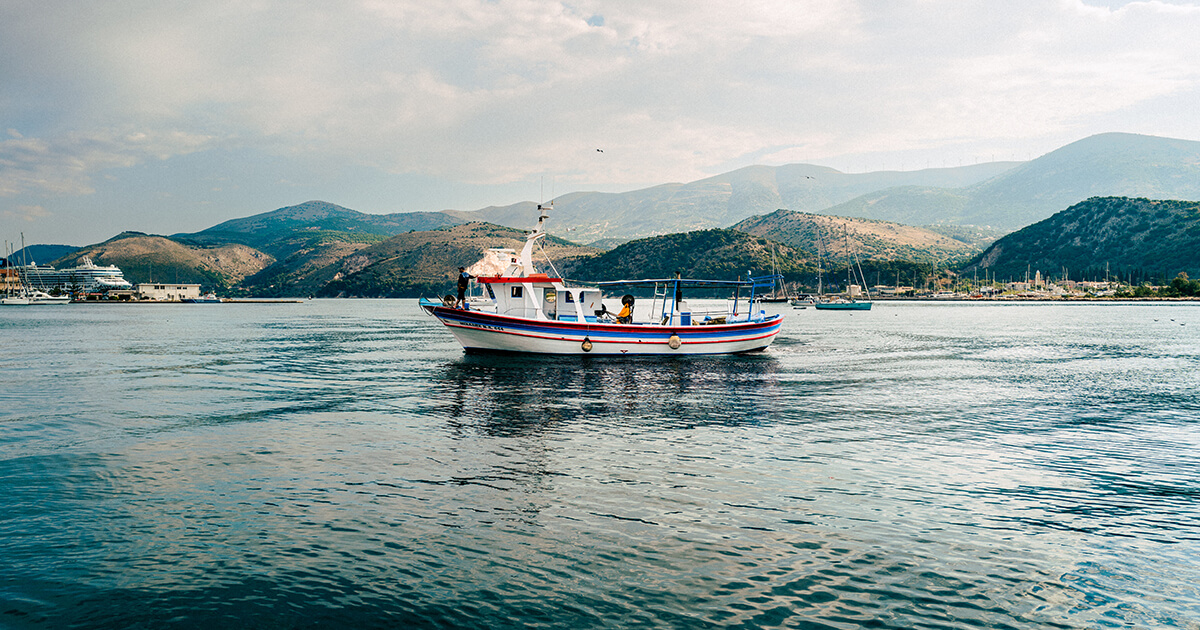 Whether sailing attire or other eco-friendly activewear, all our apparel and products are made from our sustainable OceanBalance fabrics range. 
We commit to using sustainable materials wherever possible, and currently have 18 sustainable fabric types within the OceanBalance range, including recycled polyester, GOTS-certified 100% organic cotton, and eco-progressive fabrics and trims.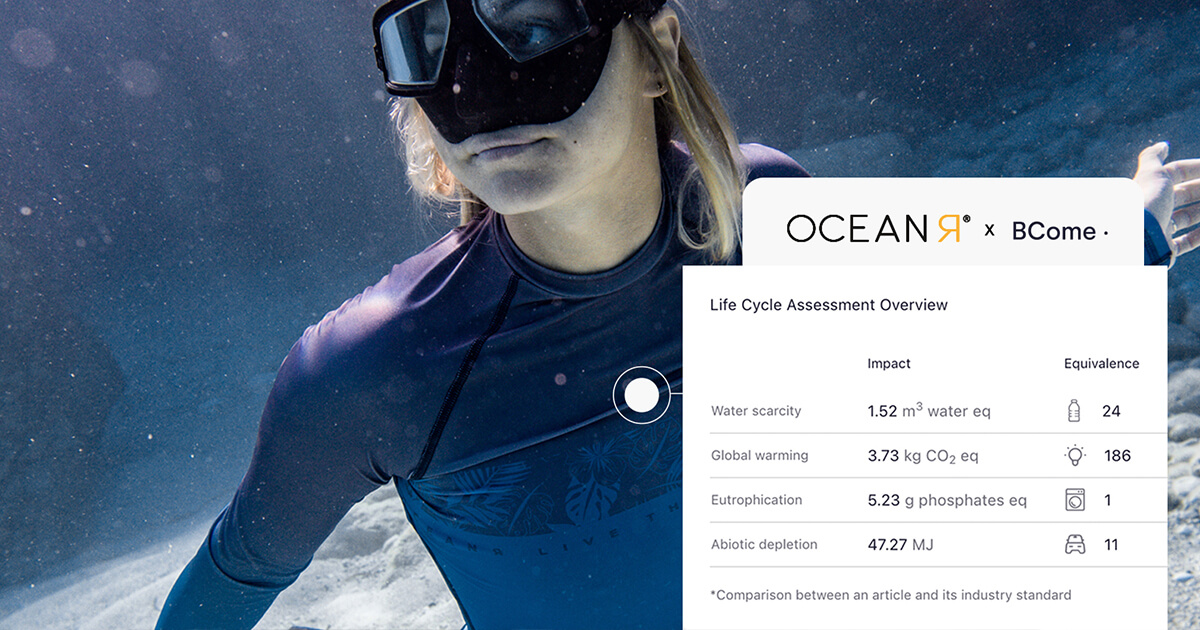 Together we're reclaiming our oceans for a better future.
We know those who own and charter yachts are acutely aware of the damaging impact of the yachting industry and have clear values when it comes to ocean conservancy.
This is what connects us. Our love of the ocean and our need to protect it, now and into the future. 
Through partnerships, collaborations, and the innovative technologies that allow us to develop more eco-friendly choices for those who live active lives on or near the ocean, we can make a difference.
Together we can make an even greater impact. To find out how we can partner with your brand to help achieve your sustainability objectives and reclaim our oceans for a better future, please get in touch.