Greenwashing is happening all around us. From retail to automotive, food and beverage to entertainment venues, the practice of misleading consumers about a brand's environmental credentials occurs across many different industries.
With no regulations on what can be deemed 'sustainable', greenwashing has increased as brands seek to 'satisfy' the values of the eco-conscious consumer. However, the EU is currently working on legislative changes (Q1 of 2023) that will force brands to substantiate their 'green claims' against specific criteria.

Since our inception in 2016, we've been working towards creating a fully-sustainable economic ecosystem for our products. Today, we want to unveil an exciting partnership that will allow our customers to trace the full lifecycle of our products, offering complete transparency and even greater confidence in their purchasing decisions.
Greenwashing
in the fashion industry
Greenwashing is two-fold. It's not just about making unsubstantiated claims about a brand's environmental credentials; it can also occur when a company tries to emphasise certain sustainable practices related to its products to disguise other damaging environmental practices it may be involved in.
Whatever the reason, greenwashing is deceitful and unethical. The demand for sustainability in fashion has increased as the spotlight has landed on the environmental impact of fast fashion. However, consumers genuinely seeking eco-friendly products from sustainable clothing brands are sadly being misled all too often.
It's not always straightforward to verify and communicate 'sustainability', especially in the fashion industry where there are many 'moving parts', but the rise of greenwashing has understandably created distrust among consumers. Thankfully, it's no longer enough to 'look' sustainable; consumers want to see concrete action. Eco-conscious consumers are – quite rightly – demanding greater transparency.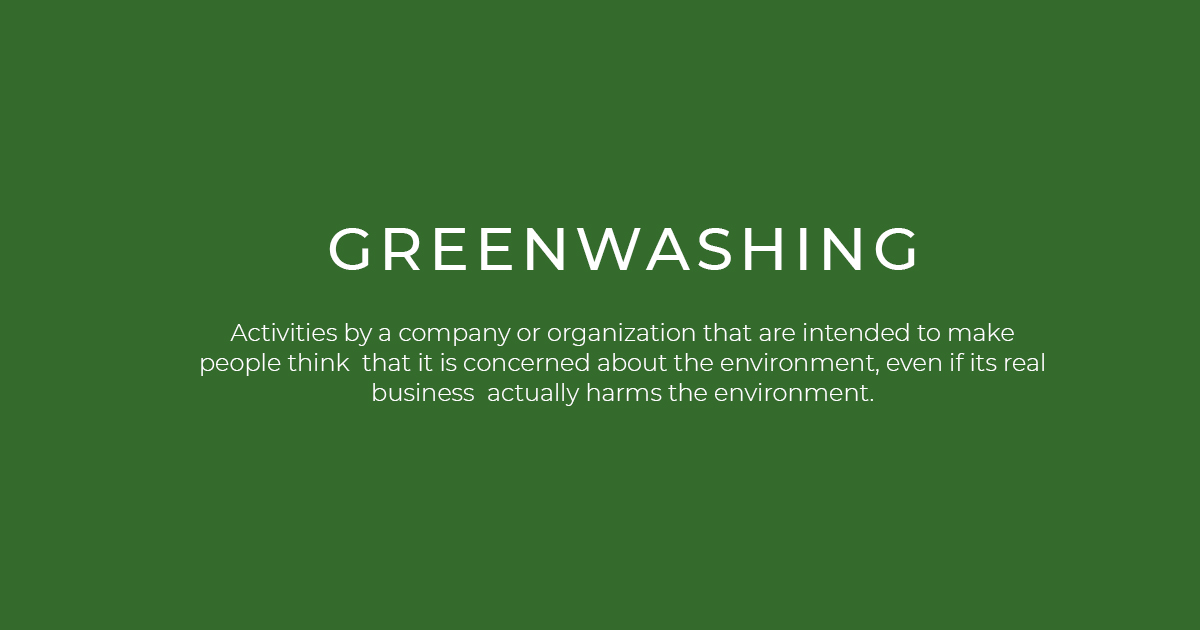 How can
greenwashing
be stopped?
The kind of transparency consumers are looking for can only truly be delivered through data, verified by a third-party, that substantiates a brand's 'green claims', proving that their products have the right features, or meet the criteria, to qualify as 'sustainable'.
This doesn't just apply to the end product itself, consumers will examine the full value-chain, which can include:
   –   The product origins and sustainable resourcing
   –   The environmental impact of manufacturing 
   –   Safe working conditions and fair wages
At OCEANR, we've been working with the incredible team at BCome to communicate our sustainable performance honestly, clearly, and accurately, which helps our consumers to make responsible purchasing decisions with greater confidence.
The team at BCome is revolutionising the fashion industry, empowering companies in the textile industry (like ours) to build responsible supply chains and guarantee transparency for the end consumer.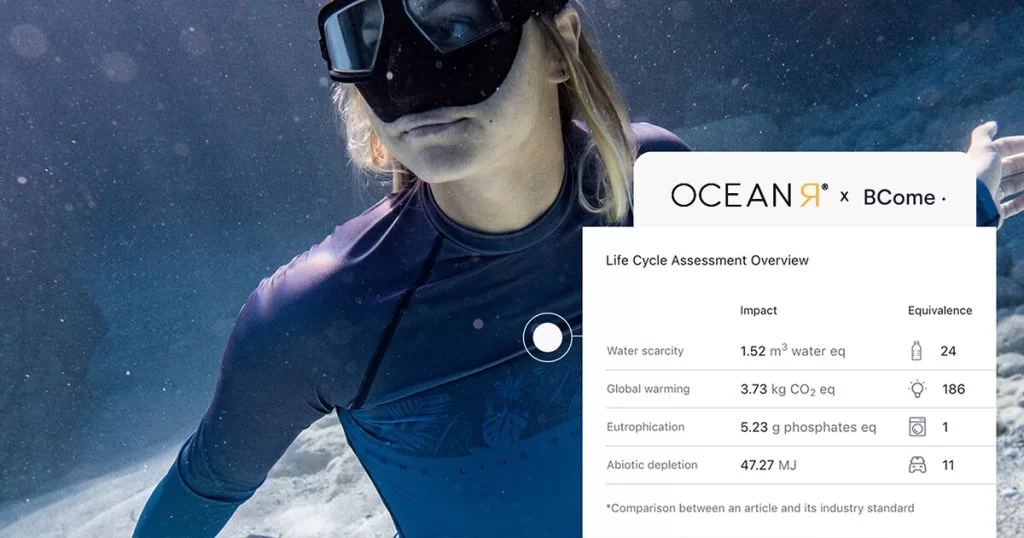 Traceability is one of our sustainability pillars. By harnessing BCome's smart methodologies we've been able to perform a full life cycle analysis of all our products to assess their current eco-impact. We're also super excited to be attaching QR codes to all future products too.
Through the QR code, consumers will be able to find out about the product's environmental impact via user-friendly metrics. This includes its global warming impact and water scarcity impact and how it stacks up against the industry standard.
Helping our customers to make
responsible
purchasing decisions
We've been at the heart of a quiet revolution in sustainable fashion since our foundation, crafting high-end eco-apparel and products for superyachts, luxury resorts, and private clients from all over the world.
We've always been committed to the use of recycled fabrics since our inception, and continue to strive to source the most innovative and sustainable fabrics for our range of products. Our recycled polyester products originate partially from discarded fishing nets, other ocean waste, and recycled plastic bottles, contributing to the cleanup of the ocean.
Partnering with BCome has allowed us to build an even deeper level of trust with our customers; verifying our sustainability claims and communicating them effectively gives our customers the confidence to make well-informed choices.
How to check you're buying from a genuine
sustainable brand
BCome has the technology to beat greenwashing, and since its launch in 2019, it's traced, measured and evaluated more than 1 million products on the market.
However, there's obviously still a long way to go, so how can you make sure you're buying from a truly sustainable business?
 –   Any brand that's been evaluated by BCome will display a 'powered by BCome' badge.
 –   True 'green' brands will often be certified by an official vetting organisation, which will be clearly labelled. For example, a BCorp certification.
 –  Check for transparency initiatives on the company website. For example, if you're in the market for an eco-friendly wetsuit, you've probably seen Patagonia's R3 Yulex suit (a plant-based material sourced from trees) and have read about the brand's eco-credentials. 
 –  Look for awards. Perhaps one day, the superyacht pantry will be kitted out with Notpla biodegradable sustainable packaging. Notpla has recently won Prince William's Earthshot Prize, in the category, 'Build a Waste-Free World'. Hurrah!
Scope out real commitment to the cause. Brands that mean business in the sustainability world will dedicate time and energy to demonstrating their green initiatives, rather than just dropping in sustainable 'buzzwords' here and there. See how Cariuma is smashing this here. They collaborated with 4Ocean for World Oceans Day '22; we're hoping they'll bring some eco-deck shoes to market soon!
Looking toward the future of
sustainability
Our aim has always been to work alongside our brand partners to positively influence our impact on the planet and reclaim our oceans for a better future.
With the imminent legislative changes, we're excited to see the transformation this drives across the fashion industry.
For us, it's vital that we move beyond attractive words and 'greenwashing' and move towards concrete action. To find out how we can partner with your brand to help make an even greater impact, please get in touch.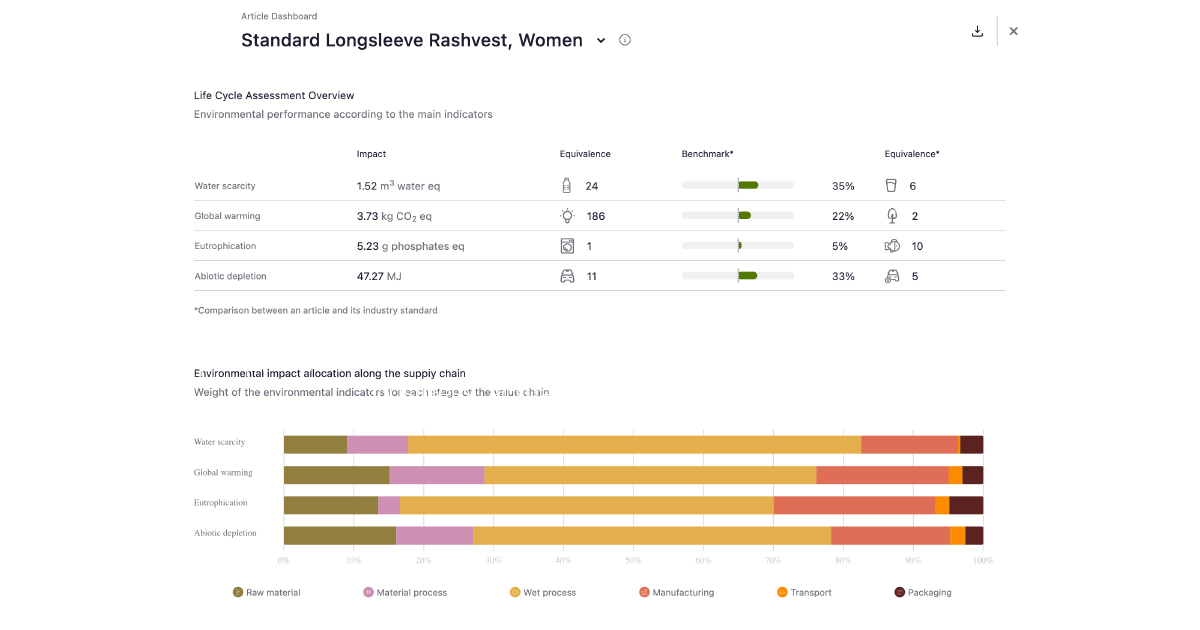 An example of the data available showing the eco-impact of an OCEANR rashvest.