BRAND PARTNERS
CUSTOM DESIGNED
ECO RASHGUARDS
SHOWCASING OUR BRAND PARTNER
DESIGN OF THE WEEK
CUSTOM RASH GUARDS CREATED TO CARE FOR OUR OCEANS
""I thoroughly enjoyed the collaborative design experience with Reefscape Travel. I loved bringing their branding to life. The design process was incredibly inspiring, as the team at Reefscape helped us with coral reef illustrations, using some of their brand accents. The eye-catching pattern was curated from their bespoke logo and branding. We used the eco-friendly sublimated design process as it transformed the illustrations onto the rash guard perfectly!" Yatti Khatri, Graphic Designer, OCEANR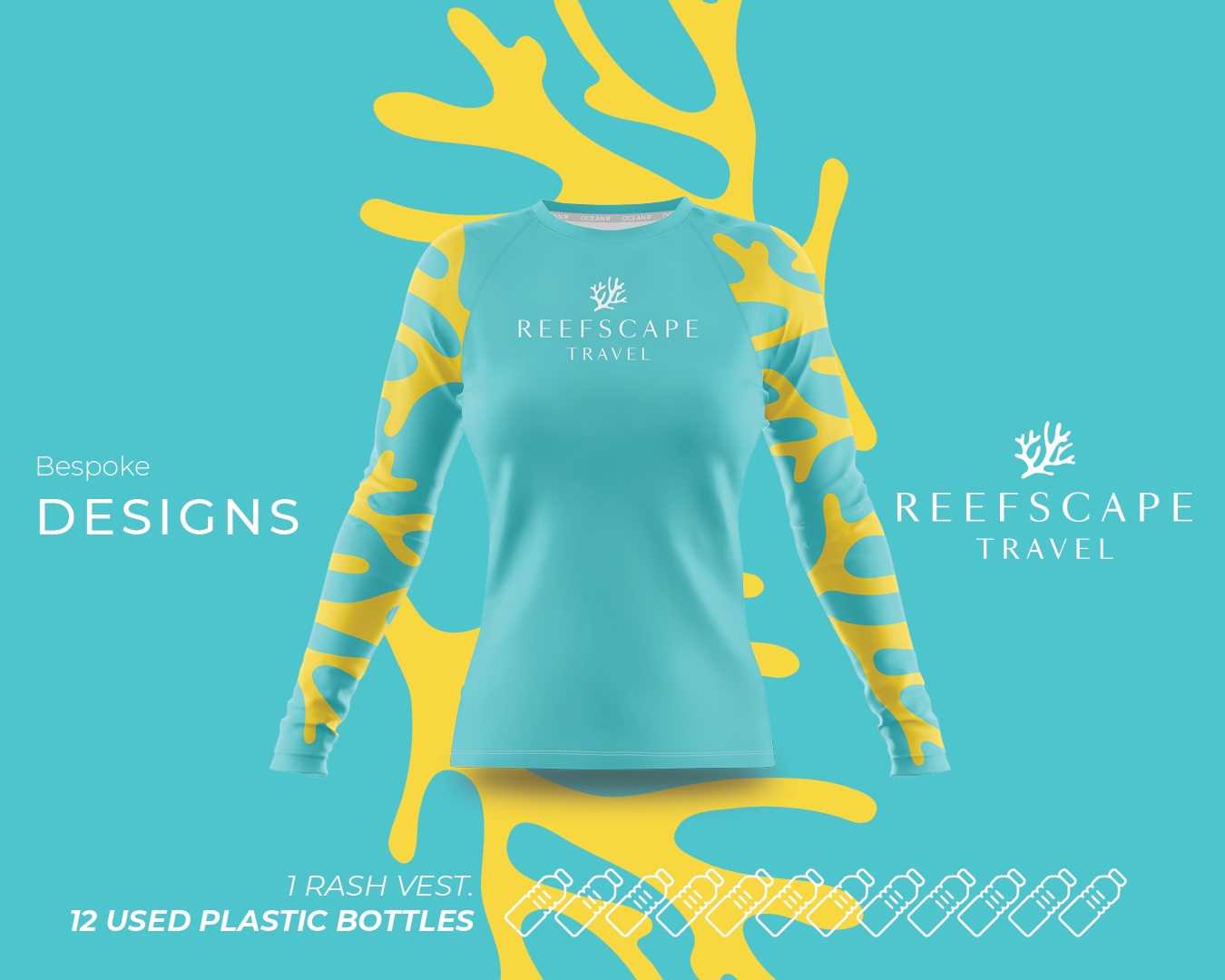 Reefscape Travel – Custom Rash Guards
We are delighted to share our newest eye-catching brand partner design of the week.
Yatti, our  creative designer, collaborated closely with the team at Reefscape Travel in the development of  this custom rash guard to align with their sustainability ethos. 
Reefscape's mission is to create unique diving holidays which benefit the environment, and local people and create a lasting impression on their clients so that they feel a connection to the destinations they visit and in turn wish to contribute to this positive impact. We love this concept!
At OCEANR, we were overjoyed  Reefscape chose us to partner with them to  help create this positive impact. 
Together, we designed a custom recycled polyester rash guard produced from recycled plastic, with unique sublimated illustrations, contributing to the sustainable future of our oceans. 
Each rash guard funds the removal of one kilo of ocean waste through our partnership with Enaelia and prevents 12 plastic bottles from entering our environment through our sustainable eco-fabrics! Our brand partnership collaboration resulted in the removal of 202 kilograms of ocean waste and prevented 2,424 plastic bottles from entering the environment.
India, Co-Founder and Dive Master within Reefscape, who helped greatly in the design process has kindly shared her OCEANR experience with us today! "As a luxury diving specialized tour operator, it was important to us to use a company that has a positive impact on the ocean. We found OCEANR and couldn't be happier with the quality of the products and the Kilo for the Planet pledge. Our rash guards perfectly reflect our brand and are essential for any scuba diving trip. We've been sporting them on our research trips and received so many compliments, and are excited to be sharing them with our Reefscape Travel clients" During the design process, OCEANR helped our vision come to life, creating fun beautiful men's and women's rash vests which stand out from the norm."
Thank you Reefscape for playing your part in reclaiming our oceans for a better future!
If you would like to learn more about our custom design capabilities and eco-friendly clothing and products, check out our catalogue below.
View Catalogue
Supporting our brand partners' green initiatives
We offer our expertise in sustainable apparel and product design to help you contribute to a better future and appeal to the eco-conscious consumer . Working closely with you, we will create mood boards and a range of design options that best represent your brand's essence. Leveraging our skilled in-house team gives you access to a breadth of product development experience from idea generation to concept development, prototyping and launch. We can also work together to enhance your sustainability profile via Case Studies, Press Releases, Social Media promotion and more. Get in contact to learn more!
Contact Us