BRAND PARTNERS
CUSTOM DESIGNED
ECO RASHGUARDS
SHOWCASING OUR BRAND PARTNER
DESIGN OF THE WEEK
CUSTOM RASH GUARDS CREATED TO CARE FOR OUR OCEANS
""I loved collaborating with the Hilton Seychelles as they were engaged in the design process from the very beginning. They contributed to the success and the final result of the products by providing us with a clear briefing about their needs and the elements that play a part in their resort atmosphere, for instance, the local animals, such as the unique eagle ray, which guests love to see." Raquel Castro, Head of Design, OCEANR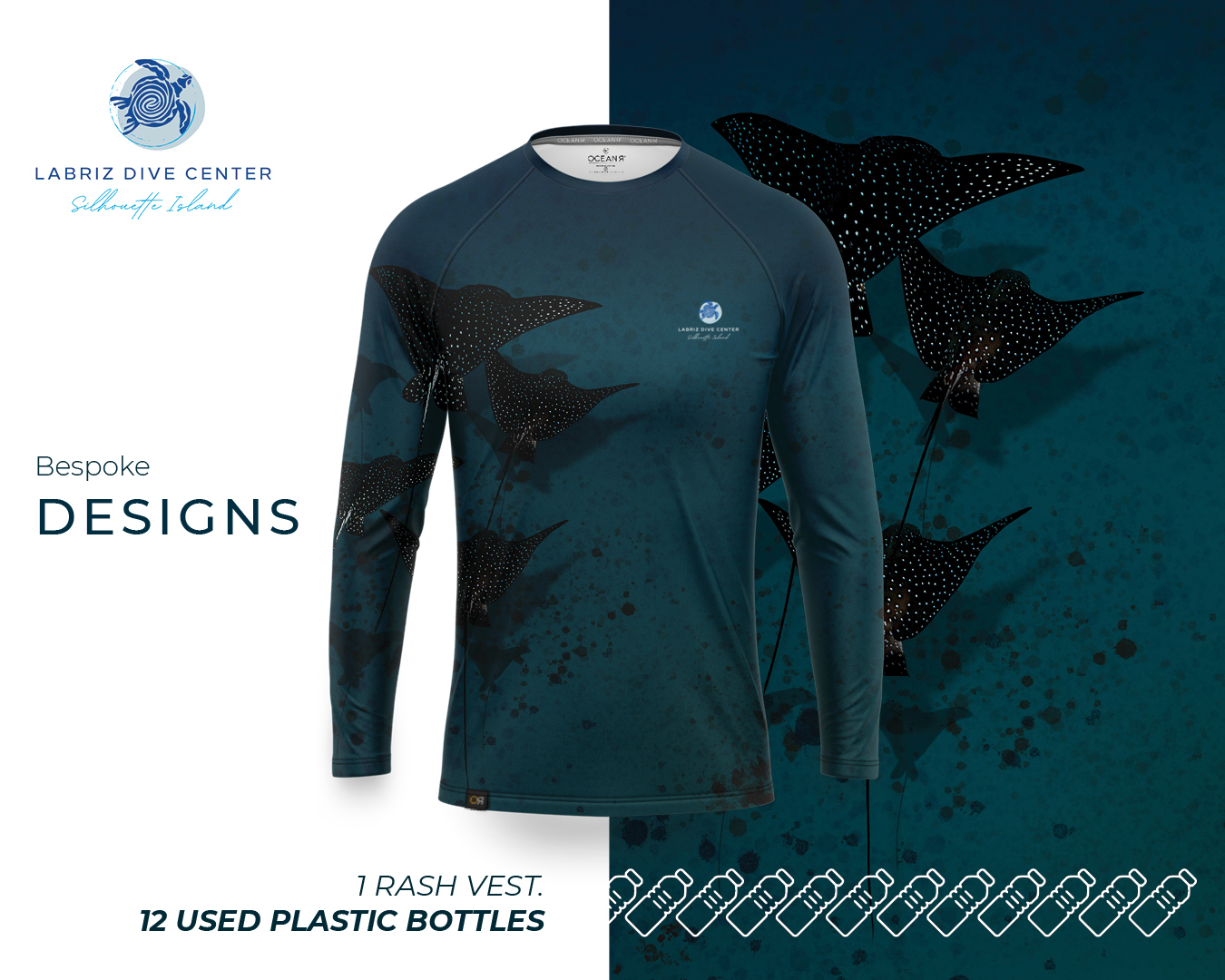 Hilton Seychelles Labriz Resort & SPA- Custom Rash Guards
We are so excited to share our brand partner design of the week!
Our immensely talented designer, Raquel Castro, collaborated closely with the Hilton Seychelles Labriz Resort & SPA in the design of this custom rash guard for their Labriz Dive Centre.
Together, we exclusively designed a recycled polyester rash guard produced from recycled plastic. Each rash guard funds the removal of one kilo of ocean waste through our partnership with Enaelia and prevents 12 plastic bottles from entering our environment through our eco-fabrics!
The Hilton Seychelles Labriz is a tropical Resort on Seychelles' Silhouette Island
The beautiful spacious private villa resort is the only one on Silhouette Island, which is 93% a National Park. Thus, for this rash guard design, Raquel incorporated the Eagle Ray, an unique animal that swims in their beautiful marine park.
Raquel was extremely proud of her collaborative design, she summed up her experience as being "Exciting work which I was really proud of. I loved the partnership with the client who had a lot of passion for designing nature elements which we were able to express through the eco-friendly sublimation technique. Thank you to the Hilton team that allowed us to deliver beautiful and sustainable products with your creative input."
To learn more about our custom design capabilities and eco friendly clothing and products, check out our catalogue below.
View Catalogue
Supporting our brand partners' green initiatives
We offer our expertise in sustainable apparel and product design to help you contribute to a better future and appeal to the eco-conscious consumer . Working closely with you, we will create mood boards and a range of design options that best represent your brand's essence. Leveraging our skilled in-house team gives you access to a breadth of product development experience from idea generation to concept development, prototyping and launch. We can also work together to enhance your sustainability profile via Case Studies, Press Releases, Social Media promotion and more. Get in contact to learn more!
Contact Us