BRAND PARTNERS
CUSTOM COLLECTION
SHOWCASING OUR BRAND PARTNER
DESIGN OF THE WEEK
Custom Designs Inspired By Ocean Lovers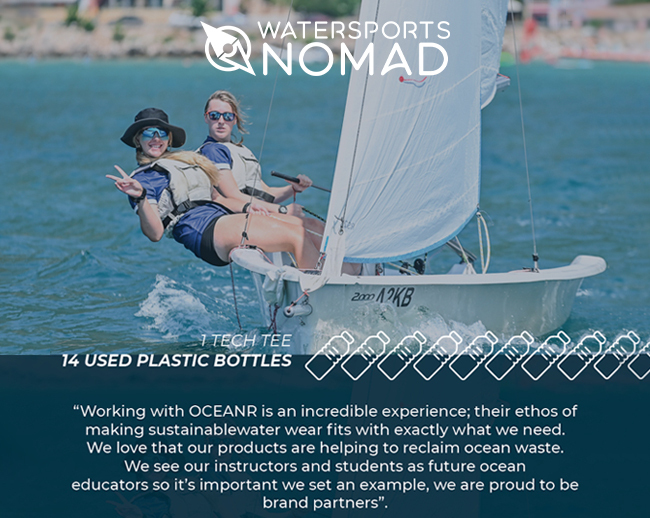 Watersports Nomad – Custom Clothing Collection
We simply can't wait to share our gorgeous design of the week crafted to care our the oceans!
Our fabulous designer Anna worked closely with Adam on these designs, to create a custom collection that spoke to his incredible passion for ocean conservancy.
Adam loved working with Anna, he notes "The OCEANR designers are incredibly skillful and experienced, having the ability to provide mock-up designs of anything we asked for, allowing our bespoke creations to come to life."
Adam owns and runs Watersports Nomad which is a watersports instructor training company based in the watersports capital of Europe; Vassiliki, Lefkada, Greece. They run the highest quality instructor training courses for Windsurfing, SUP, and much more.
The unique training their students will receive will allow them to get paid to travel the world teaching watersports and living on the beach! Follow their journey here!
Check out the story behind the design below!

"The compass in our logo represents the traveling element of our brand and the reason that it points to the North West is here at our base in Vassiliki that's what makes the strong wind and that's when things get exciting. Our main brand colours are Yellow and Blue, Which represents the Sun and the Ocean, two of the biggest elements at our location in Vassiliki."
The predominant fabric that we used for Adam's collection was recycled polyester which is produced from post-consumer plastic waste, such as discarded fishing nets and water bottles.
Our collaboration together works towards creating a circular economy, repurposing existing plastic into bespoke apparel, designed to stand out from the crowd!
The custom apparel range included:
–  100% recycled polyester tech tees
–  Recycled polyester rash vests with elastane for stretch- each rash vest prevents 12 plastic bottles from entering the environment!
–  Recycled polyester board shorts with elastane for stretch- each pair prevents 6 plastic bottles from entering the environment, all of this is made possible through the use of our eco-fabrics!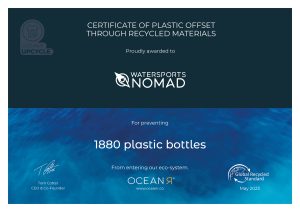 The roots of our sustainable collaboration
The Water-Sports Nomad collection was such an exciting collection to create as both Ana, our designer, and Adam, CEO of WaterSports Nomad are such ocean lovers!
Ana recounts, "The ocean to me means vastness, that place that gives a sense of calm and deepness, and at the same time, a whole astonishing world that keeps you wondering every time you visit it."
Whilst Adam describes his love for the ocean from his early childhood years, "I have been into all things watersports since the age of ten; when I was 18 I found out you could work and travel the world as an instructor. Since then I have been full-time in the watersports industry. During the summers I can be found teaching in Watersports Nomad instructor training center in Vassiliki, Greece. I also spent 4 winters working for Richard Branson on his private Necker Island."
I love training the next generation of watersports Instructors and getting them going on the journey of living the dream of working and traveling on the ocean!"
Check out all the kilos of ocean waste they have removed! We are thrilled that our partnership with Enaleia brings Adam, his students, and our oceans so much joy.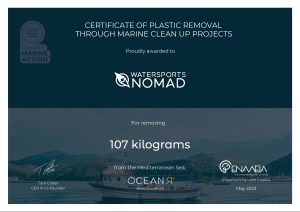 Download our catalogue to check out some more of our magical designs committed to cleaning our oceans. 
View Catalogue
Supporting our brand partners' green initiatives
We offer our expertise in sustainable apparel and product design to help you contribute to a better future and appeal to the eco-conscious consumer . Working closely with you, we will create mood boards and a range of design options that best represent your brand's essence. Leveraging our skilled in-house team gives you access to a breadth of product development experience from idea generation to concept development, prototyping and launch. We can also work together to enhance your sustainability profile via Case Studies, Press Releases, Social Media promotion and more. Get in contact to learn more!
Contact Us