BRAND PARTNERS
CUSTOM DESIGNED
ECO APPAREL
SHOWCASING OUR BRAND PARTNER
DESIGN OF THE MONTH
CUSTOM TECH TEES CREATED TO CARE FOR OUR OCEANS
"I thoroughly enjoyed working with the OCEANR team - from the first concept conversation all the way to final production, the process was fabulous, and exceeded my expectations. I especially enjoyed the design process - open, fun, creative and absolutely collaborative. Thrilled with the results! I can't wait to showcase the tech tees at our event!
Karen Beber, SEAS Program Creator and Co-Founder of @WriteByMe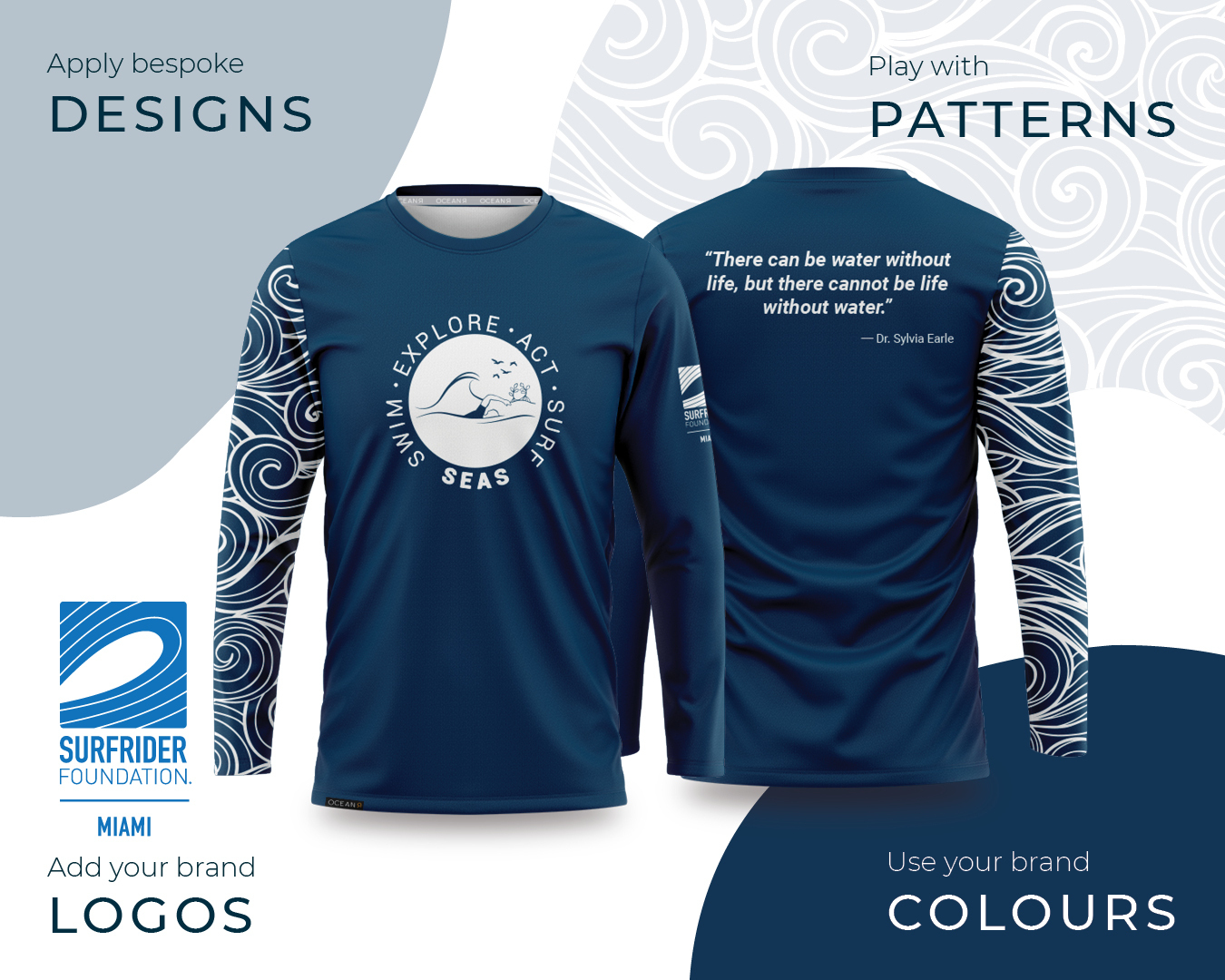 We are so excited to share our brand partner design of the month!
OCEANR's incredibly talented designer, Yatti, collaborated closely with Surfrider Foundation Miami Chapter, on this bespoke design. Together, we exclusively designed a recycled polyester tech t-shirt, produced from recycled plastic, each one preventing 14 plastic bottles from entering our environment. The Surfrider foundation is an organisation dedicated to the protection and enjoyment of the world's ocean, waves and beaches, for all people, through a powerful activist network. Through our #kilofortheplanet project – each Surfrider tech tee funds the removal of one kilo of ocean waste!
Yatti loved working on this design as she got to employ a number of different techniques. She learned about the ethos of our brand partner's company and incorporated minimal line wave pattern designs onto nautical colours, to align with their brand identity, which centres around ocean conservation.
Yatti hand drew the wave pattern and then the design was sublimated onto the fabric. Sublimation is a great eco-friendly printing technique as it involves minimum wastage as no dye gets into the water system. Our brand partner loved the beautiful quote by Dr.Sylvia Earle, "There can be water without life, but there cannot be life without water", and wished for it to be incorporated into the design. Once again, we used sublimation to showcase this on the back of the t-shirt. Yatti is extremely proud of this bespoke, custom design and luckily our wonderful brand partner absolutely loved it too!
To learn more about our custom design capabilities and eco friendly clothing and products, check out our catalogue below.
View Catalogue
Supporting our brand partners' green initiatives
We offer our expertise in sustainable apparel and product design to help you contribute to a better future and appeal to the eco-conscious consumer . Working closely with you, we will create mood boards and a range of design options that best represent your brand's essence. Leveraging our skilled in-house team gives you access to a breadth of product development experience from idea generation to concept development, prototyping and launch. We can also work together to enhance your sustainability profile via Case Studies, Press Releases, Social Media promotion and more. Get in contact to learn more!
Contact Us