Custom Designs Crafted To Bring The Magic
Of The Ocean Alive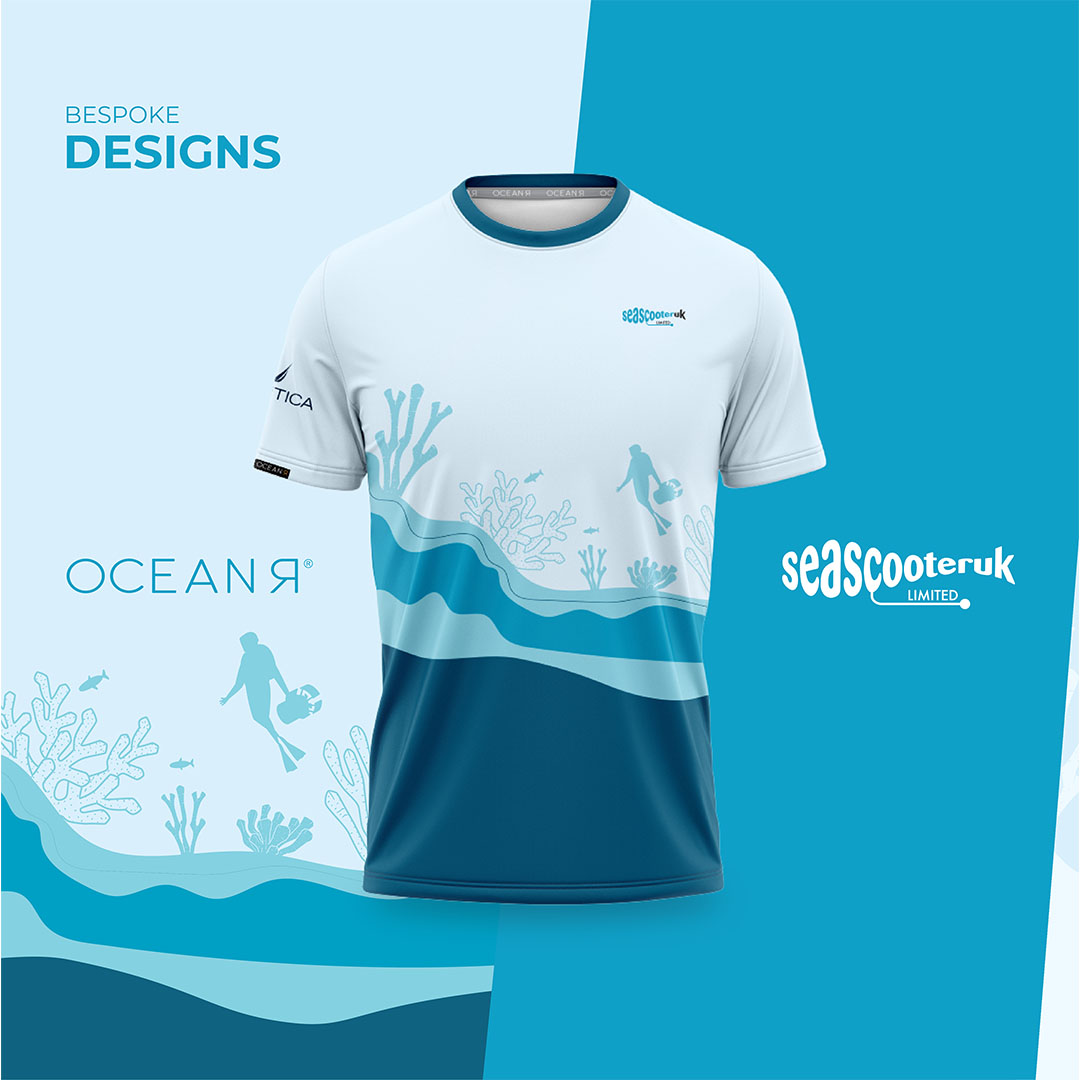 An interview with SeascooterUK, our brand partner design of the week!
We are bursting at the seams to showcase our eye-catching design of the week.
"The Ocean has always been a dominant 'Safe Haven', offering peace and purity to us.
An iconic presence, who has always deserved to be rewarded with a generous level of returned kindness and care.
It was for this very reason we chose to have our team's tops made by OCEANR, which helped the ocean by offering the equivalent reduction of 240 Plastic bottles in our Oceans." Tom Sloggart, Department Manager, SeascooterUK.
The recycled polyester tech tees are crafted to care for our oceans, derived from post-consumer waste such as discarded fishing nets, each tech tee prevents 14 plastic bottles from entering our eco-system.
At OCEANR we are doing our best for the planet and by partnering with us, SeascooterUK is playing its part. Every small step matters and accumulates to an even bigger impact.
The inspiration behind your design?
To say that SeascooterUK should take any form of recognition for the beautiful outcome of our team tops, would not only be completely untrue, but it would be virtually criminal!
In my professional opinion, The team at OCEANR worked absolute miracles, with very little input from us here at SeascooterUK at all.
Guided only by a suggestion to which colours we use in our brand palette and the style of top we preferred… We stepped back and handed over all creative control to OCEANR.
This turned out to be the most amazing decision for our business.
I genuinely believe that voicing many of our own inputs, would only have served to offer as multiple 'restrictions' to the sheer creativity of the very talented design team at OCEANR.
Artists often work best with blank canvases, minimal input, and freedom to express their talents in an unrestrained manner.
OCEANR took advantage of that opportunity, and the results were spectacular!
Through their own research, they captured that our products are often linked (but not limited) to Scuba divers and that our products offer opportunity for exploration and adventure.
Allowing our clients to enjoy the beauty of reefs, amazing wild animals, and underwater vistas whilst below the waves.
When the design proof for the tops came back with a Diver, fish, coral and even a Seascooter in the design… Honestly, I was lost for words!
I must have re-looked at the design at least 10x times that evening in utter shock of just how beautifully they came out.
It's fair to say that pictures, genuinely don't do the top justice either!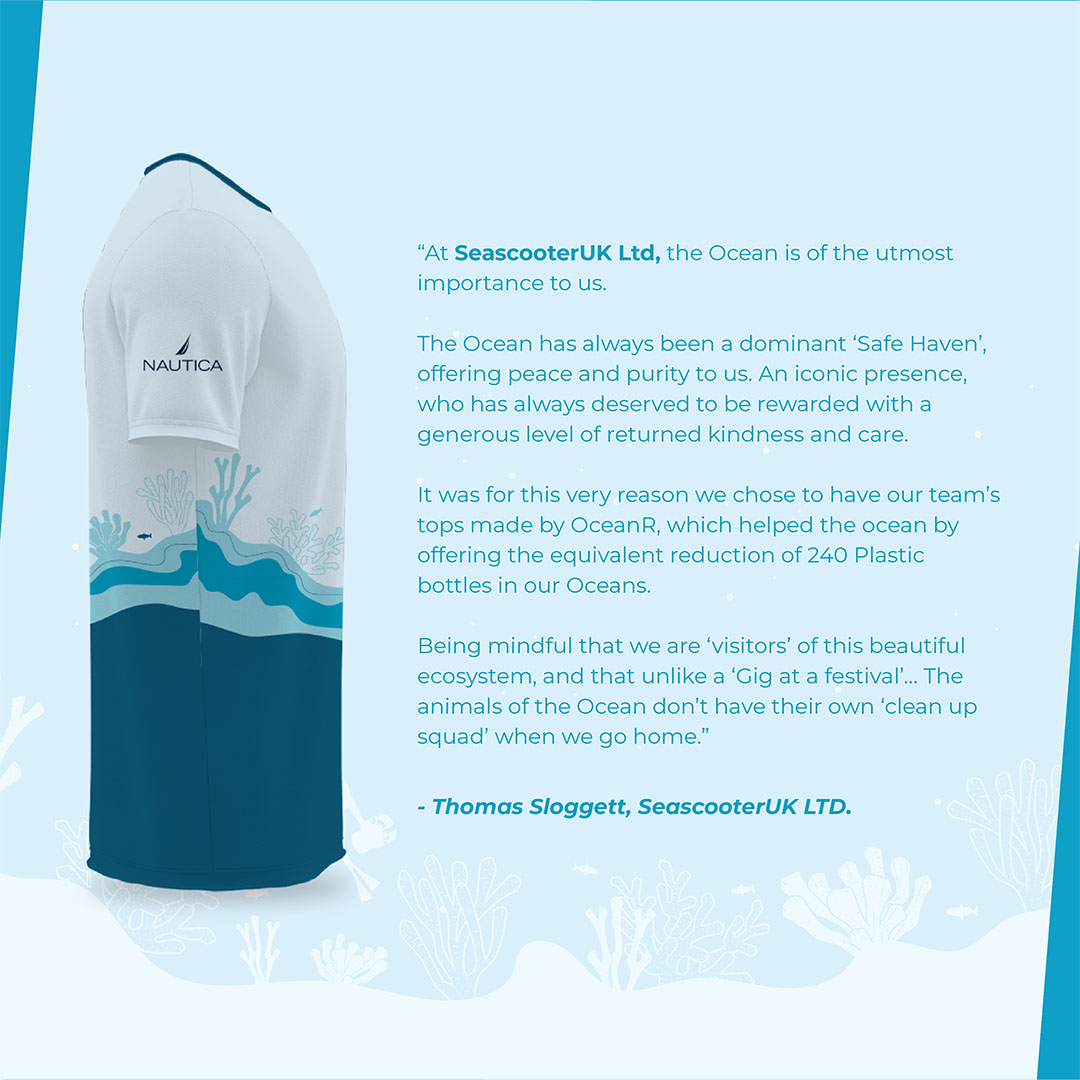 How did you find your experience
with the OCEANR designers?
When you think about it… It's very rare in life, that you feel so passionately impressed by the general attitude, ethos, vibe, or creative workmanship of an individual or a company,
that you're confident enough to step back and give them completely free reign to create something bespoke for you. Especially, if you've never had a previous experience with them.
Often individuals will require considerable input from their clients to achieve the desired outcome and capture that 'wow factor'!
When that item is for something as important as the image of your own business, and you know deep down it's the often the 'little details' that make the biggest impressions to your clients,
it can be difficult to relinquish that level of control.
OCEANR surpassed every expectation I previously had and did so purely from their own talent and professionalism.
The design was incredible, the process was straight forward, and results were very good value, especially when you take into consideration their conservation efforts and quality of the finished garment too.
Was your vision brought to life?
When we received the design proofs back for our new team gear, we were quite literally amazed by the sheer quality of the design concept.
They'd somehow understood our product market, the importance of the Oceans to us and how passionate we are to explore them.
When I look back at what I'd been hoping for before the venture, the ideas I'd previously been imagining aren't even half as good as the final product they produced!
The icing on the cake for us here at SeascooterUK Ltd, was knowing that their amazing efforts also contributed to the conservation of our beautiful Oceans.
Our team tops helped protect the waters that we love, by reducing the volume of plastic bottles in the Sea by the equivalent of 240 bottles!
I only wish we had a bigger team now, so we could wear more of their tops and help maximise the reduction of plastic bottles in the Ocean.
Are we happy with the finished result… Genuinely, we couldn't be happier!
We have a lot to live up to following this recommendation, but if you would like to learn more about brand partner opportunities with OCEANR view our catalogue below 
View Catalogue
Supporting our brand partners' green initiatives
We offer our expertise in sustainable apparel and product design to help you contribute to a better future and appeal to the eco-conscious consumer . Working closely with you, we will create mood boards and a range of design options that best represent your brand's essence. Leveraging our skilled in-house team gives you access to a breadth of product development experience from idea generation to concept development, prototyping and launch. We can also work together to enhance your sustainability profile via Case Studies, Press Releases, Social Media promotion and more. Get in contact to learn more!
Contact Us